Celene Gee's Guide To Layering Jewelry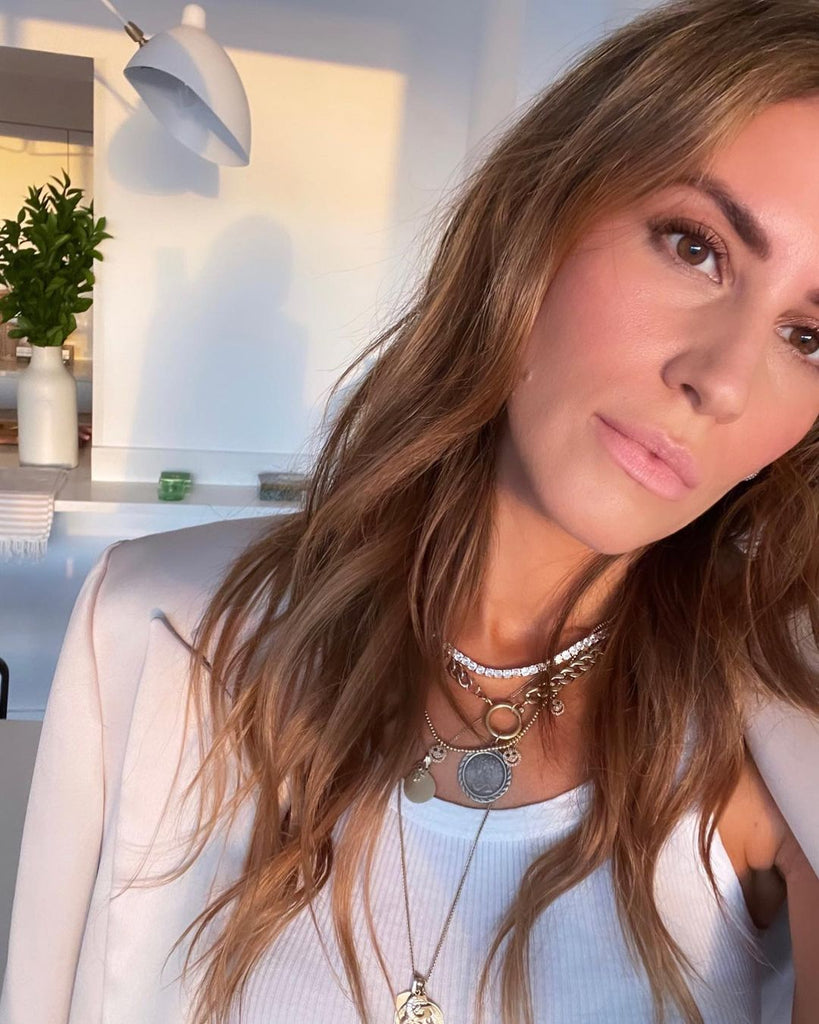 "Jewelry is definitely a signature style staple for me. What I love about it is how personal you can make it, and that the pieces I buy (all from
 

6 By Gee Beauty) and layer together are unique only to me - no one else is going to layer and wear the exact same pieces as me! I have learned a few styling and buying tips over the years, and I'm sharing all the details here."
Keep reading for Celene Gee's Guide To Layering Jewelry.
Find Inspiration
The amazing thing about the visual world we're living in is the access to inspiration - from a magazine, from Instagram, from pictures of a past vacation.
Save some images of accessory looks you like, so when you come across some great new pieces, they fit with the style you're into. See if there are similarities in what you love: gold or silver, fine layers, or bigger statement pieces, minimal or a maximum look.
Build Your Collection
Choose which types of accessories are the most effortless for you and accentuate what works for your style, like earrings, or bracelets, necklaces or rings. I would say pick 2 categories at a time to start. Browse pieces you like and try them on with outfits that really feel like you - so you know its a piece of jewellery you'll wear a lot and get good use out of. You don't have to rush the purchase, if you weren't planning on buying it that day then it's best to think about it. If you're continually thinking about it, then you know. You want to feel great about your purchase!
Mix + Match
I don't think there are any rules when it comes to mixing metals like wearing gold and silver, wearing dressier pieces with casual pieces (which I love).
Mixing pieces, styles, colors etc really is what makes the look your own, and not straight from one shop. Once you figure out what you love, the mix is what your signature becomes.
Layer
Contrast is always a good style technique when it comes to layering.
Thin with thick, short with long, chain link bracelets with solid cuffs or bangles. Try a longer thin, fine chain necklace with a charm or two on it for some weight, paired with a thicker shorter chain closer to the neck.
Lately I've been loving Lisa Gozlan's Happy Face Collection to elevate my jewelry game. Shop all
 

Lisa Gozlan Jewelry

 

here

.
Invest
Great pieces last a long time, and can stand the wear and tear of everyday use. That being said, costume pieces or gold-plated give a look and style that isn't always possible with fine pieces, plus it's much less investment. I love and have a big collection of fun, costume and gold -plated jewellery. I wear it again and again. For some pieces like earrings and rings, keep in mind any potential irritations or reactions to mixed metals, or the piece changing color (oxidizing) over time. Generally when I buy a certain gold-plated style over and over again, I know that's a piece worth investing in the real thing. That's how I come to decide on my necklaces, earrings and rings. Bracelets are the ones I have fun with, layer, play with different looks etc. 
For fine, high-quality yet practical accessories I love
 

EF Collection. Shop it at 6 By Gee Beauty

 

here.
Have Fun With It
Don't take it seriously! Ask a friend's opinion if you like their style. Ask the person from the brand or shop you're buying.
If they have great style like @6bygeebeauty, they can genuinely help you with the look. I ask Michelle everything, she has such an effortless look, and gives amazing, honest style advice.
I also love to buy a few fun summer pieces each year, because I always pull these out the next year when I want to add a little more fun and color. They're great for vacation, and to mix in with your silver or gold pieces. Think pearls, colored beads, string, straw or leather with charms - again it's all about the mix! I love Martha Calvo pieces for this.
Shop all jewelry at 6 By Gee Beauty
 

here.
More On The Gee Edit Blog:
Want to learn more about Celene Gee's essentials? Learn more about what the things in Celene's bag reveal about her. Read 

here

.
"Staying cool and comfortable is the name of my summer style game." Read Celene's recipe for a perfect summer look
 

here

.