Miriam Gee's Top 5 Products For Fall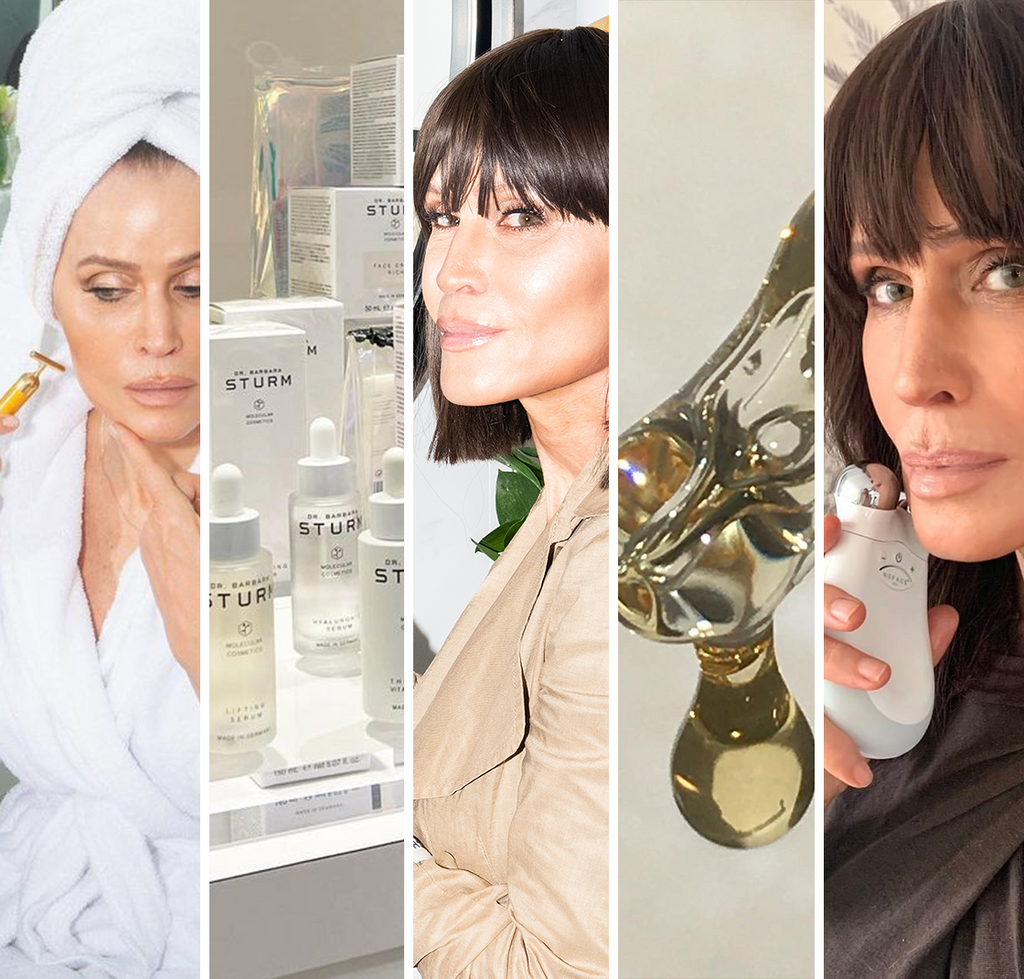 With fall just around the corner, it's the perfect time to give our skin a little polish and swap out lightweight summer staples. Picking the right combination of products + treatments is key. Think exfoliation, nourishment + protection.
Miriam Gee is your trusted expert + skincare guide, sharing her tips to transition your skin regimen for the cooler months ahead. Keep reading for Miriam Gee's guide to seamlessly transitioning your skincare routine for fall.
Book A Gee Beauty Facial
"The
 

Gee Beauty Medi Facelift

 

is a facial treatment that takes years off your skin." - Miriam Gee

This advanced, 4-part high-tech facial is designed to rejuvenate, tighten, and resurface the skin for maximum results with minimal downtime. The Medi-Facelift uses Divine Pyramid technology and is powered by 4 superior modalities made of Tripollar, Dynamic Muscle Activation, VoluDerm and TriFractional hand pieces which target the skin and muscles. In this 120 minute treatment, the skin will be treated with muscle-sculpting technology, micro-needling and radio frequency to give the skin a non-invasive 'facelift' effect. The sophisticated delivery system and advanced safety features ensure maximum results with minimal downtime and discomfort.
Learn more about our Gee Beauty facial treatments 

here

.
Exfoliate, Exfoliate, Exfoliate!
"

Retinol
 

is for cell renewal, resulting in more youthful skin." - Miriam Gee   
Summer brings hot and humid weather, which may result in excess sebum production. This increased oil, sweat and dead skin may leave our skin congested so a deep exfoliation is key as we transition to fall. 
Retinol, a powerful antioxidant with an exfoliating effect, is a fall skincare staple for me. The colder months are a good opportunity to introduce retinol into your skincare routine because it increases your skin's sensitivity to sunlight, so it should be used sparingly in the summer. Retinol, also known as Vitamin A, promotes cell turnover + enhances collagen production and is best used for scarring, pigmentation, uneven texture, wrinkles + brightening. 
Currently I am loving Dr. Sebagh's Retinol Night Repair. It is an overnight super-serum with 0.3% retinol combined with moisturizing oils and humectants—including rosehip oil, Vitamin E, coconut oil, olive oil and squalene, making it more gentle on the skin. It helps restore, reinforce and protect the essential integrity of the skin barrier. Make sure you always protect your skin with SPF daily - even in the colder months and especially while using retinol!
Dr. Sturm's Enzyme Cleanser is a two-in-one cleansing foam and exfoliator, particularly ideal for oily and combination skin. The fine-grained powder transforms into a soft foam once water is added, providing a deep, yet gentle cleansing. A collection of enzymes work together to peel away dry and rough skin, remove makeup, and reduce excess sebum from pores. The skin will appear revitalized and smooth instantly after cleansing.
Shop all exfoliators
 

here

.  
Take Your Skin Hydration To The Next Level
The fluctuating temperature + humidity levels in the summer can really do a number on our skin. Adding a facial oil into your fall skincare regimen can work wonders for rebalancing your epidermis, controlling oil production and soothing the skin. It keeps water from escaping your skin and seals in the active ingredients in your skincare regimen, so that your skin is hydrated and healthy. It also helps to restore moisture and gives a radiant, youthful glow, which makes it great for aging skin.
Vintner's Daughter Active Botanical Serum is a luxurious face oil, formulated with 22 of the world's most nutrient-rich botanicals for nourishing and restorative moisture. This potent concentration delivers 60+ restorative nutrients including restorative phytoceramides and phytonutrients, balancing minerals, brightening vitamins, free-radical fighting antioxidants, moisturizing fatty acids and nourishing omegas 3,6,7 and 9 to revitalize, soothe, and support a healthy radiance.
"

Ice Ceramide Moisturizing Cream
 

is a richer face cream which is like a moisture magnet." - Miriam Gee
ICE Ceramide Moisturizing Cream is a pro-ceramide moisturizer that strengthens the natural moisture barrier against environmental stressors responsible for premature aging. Skin stays smooth, balanced and age-less looking throughout the day.
Rich but lightweight, this dual action moisturizer uses beetroot and coconut extract to pull hydration into the skin, while ceramides, vitamin F, and pomegranate sterols strengthen the skin's natural moisture barrier, sealing in moisture. Together, skin is glowing, baby-smooth, and deeply hydrated. 
Shop all hydrators
 

here.

More From Miriam Gee:
Watch Now: Miriam's 'Summer To Fall Skincare Transition' Instagram Reel
 

here.
Watch Now: Miriam shares and teaches us her skincare must-haves for glowing skin! Watch Miriam's Instagram Live
 

here.
Watch Now: Miriam's Evening Skincare Masterclass. Watch
 

here.