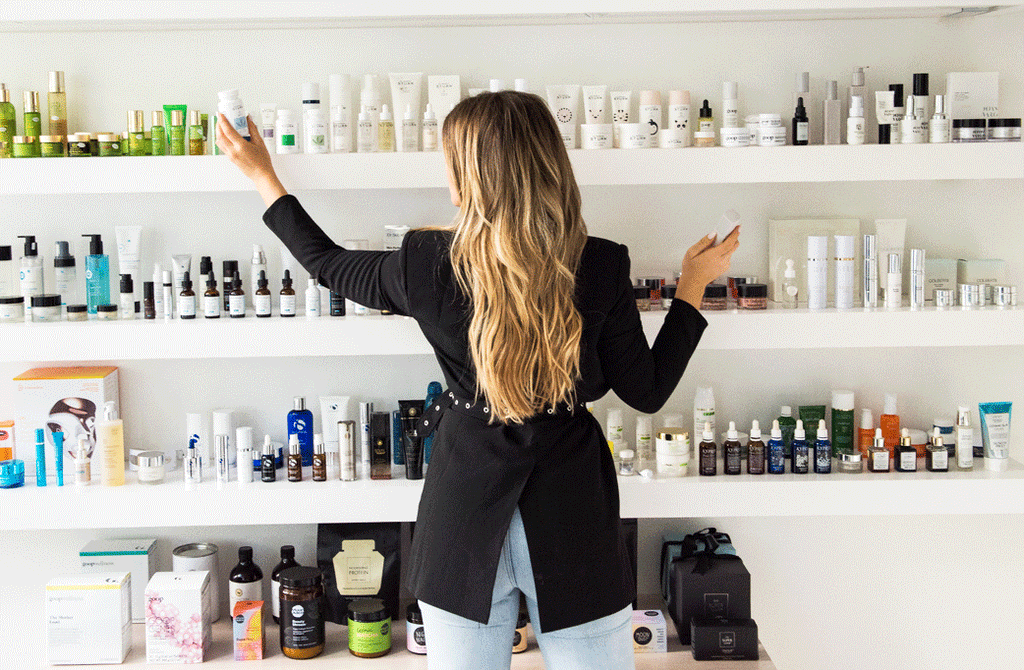 Exfoliation is key to a well balanced skincare routine, but it can be tricky to nail down the perfect balance between over exfoliating and not exfoliating enough. The first step in figuring out how to exfoliate is knowing your skin type and finding an exfoliator, whether chemical or physical, that works with your current routine to to give you the results you are looking for. As with all skincare, there is no one product that works for everyone. Here we have broken down exfoliation FAQs to help you find the right one for you!
What is the difference between a chemical and physical exfoliation?
A chemical exfoliation is made up of a single or multiple acids to promote cell regeneration of the skin. Usually applied in the form of a serum, mask, or pads, a chemical exfoliant works to lift pigmentation, reduce pore size, reduce excess oil and soften fine lines. A physical exfoliation is a more superficial way to buff dead skin and improve texture. Most generally in the form of a scrub cleanser, a physical exfoliant will work on texture and impurities for a brighter, smoother complexion. Our best analogy: Think of finishing a piece of wood - you can either use a liquid wood polisher that penetrates deep into the wood to treat versus using sandpaper that polishes off the top layer. Both are effective at finishing, but use different methods to do so.
Why is exfoliating so important?
A: No matter the skin type, we all accumulate dead skin. Due to environment, lifestyle and natural cell regeneration, our skin cells get congested which results in blemishes, pigmentations and loss of collagen. Exfoliation is a key component in a skincare routine for a brighter, tighter complexion. Exfoliation is also necessary to ensure products are getting fully absorbed into the skin for optimal results.
How often should I exfoliate?
Depending on your skin's condition, we recommend exfoliating 1-3x per week at maximum. The key with exfoliation is to do it in moderation. Over exfoliating will create sensitivity so start slow and build up from there!
How do I choose the best exfoliant for me? There are so many to choose from!
Trust a skin expert. There are so many different exfoliants on the market right now, but the key is choosing the right one for your skin. The first step is understanding your skin type and what your skin can handle. We always recommend to start off as mild as possible and to build up to your skin's tolerance. Come into one of our studios for a complimentary skin consultation or email beautyconcierge@geebeauty.com and we will guide you.
We have rounded up our favourite exfoliators! From scrubs to peel pads, we've got you covered!
This mask is a total glow-getter! This is a chemical exfoliant made with a combination of azelaic and lactic acid to exfoliate dead layers of the skin off for a faster cell turnover. This is an excellent pre-party ritual as skin looks instantly lighter, brighter and smoother. We recommend using this mask 1-2 times a week. 
Shop Goldfaden MD Doctor's Scrub | $115
This is a physical exfoliant made up of micro-crystals that polish away dead surface skin. We love this for men because of the combination of the hyaluronic acid, which delivers long-lasting hydration, and the seaweed and organic red tea extract that offers antioxidant nourishment. The ultimate skin buffer that delivers results of a microdermabrasion treatment!
Shop Dr. Barbara Sturm Enzyme Cleanser | $95
We love this two-in-one cleansing foam and exfoliator for sensitive skin. The fine-grained powder transforms into a soft foam once water is added, providing a deep, yet gentle cleansing. A collection of enzymes work together to peel away dry and rough skin, remove makeup and reduce excess sebum from pores. We recommend using this 2-3 times a week in place of your daily cleanser. 
Shop Sunday Riley Good Genes | 30ml $135, 50ml $200 
This is a gentle chemical exfoliant made up of lactic acid that purifies pores so that they appear smaller. We recommend to use this 2-3 nights a week and eventually work up to every night. 
Shop Dr. Dennis Gross Alpha Beta Universal Daily Peel | 30 applications $110
This at-home chemical peel pads will resurrect radiance with the appearance of reduced wrinkles and refined pores. These iconic peels are at at-home version of the peels that Dr. Gross uses for patients in his NYC practice, all without requiring any downtime. Step 1 is packed with rejuvenating, powerful yet gentle exfoliating acids while Step 2 controls the alpha hydroxy acid activity and delivers anti-aging actives, nourishing skin, keeping it balanced, smooth, and radiant. Skin immediately looks refreshed and glowing. We recommend starting with 2-3 times a week and eventually working up to every day.