Active Beauty: The Best Products for Pre and Post Workout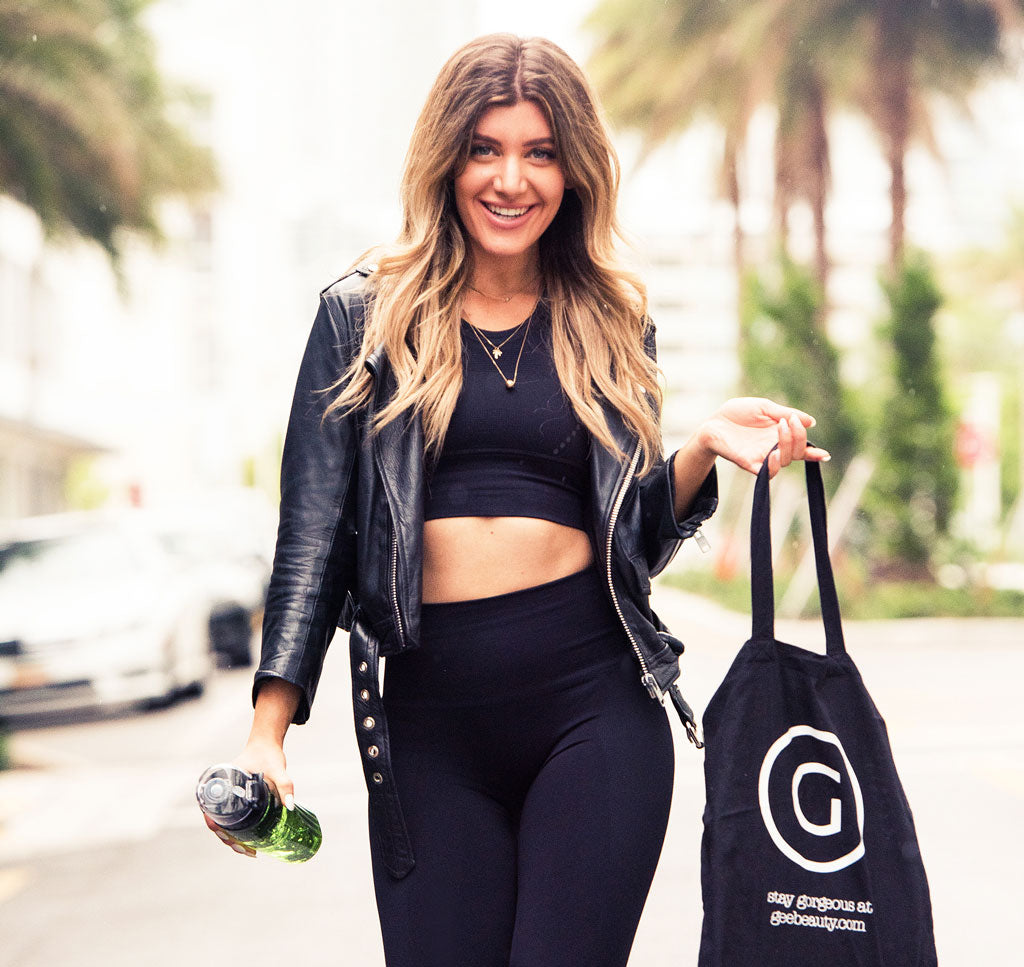 When aiming for a wakeup-and-workout regime, leaving the skin as fresh and as natural as possible is ideal. To energize and awaken the skin before you leave the house, splash your skin with cold water and then apply a hydrating spray, like the Gee Beauty Hydration X3 Mist. This will prep and hydrate your skin for the day.
Next apply an eye cream. We love Dr. Dennis Gross' Dew It All Eye Gel because it is incredibly hydrating and also has caffeine in it to help you feel and look awake.
In your usual skincare routine next would come your serums and moisturizers but as we learned from our friend and brilliant skin guru Dr. Dennis Gross, hydrating creams and serums can often act as a barrier to our skin trying to release sweat and toxins while we workout. This can cause irritation or even a breakout so skip this portion. Plus when you wash your face when you're finished working out, you would be applying your serums and creams all over again. So skip your serums and moisturizers until after your workout.
Post-workout we love Dr. Dennis Gross' Alpha Beta Ultra Gentle Daily Peel to gently exfoliate the skin and clear off any bacteria. These easy to use 2 step pads are individually packaged so perfect to slip into your gym bag. 
Because the skin gets heated during a workout, calming and soothing is the name of the game post-workout. Try SkinCeuticals' Phyto Corrective Gel or Dr. Barbara Sturm's Calming Serum. Both work to calm and soothe the skin, bringing down any redness that has appeared. 
If you have particularly sensitive skin try SkinCeuticals' Redness Neutralizer. This moisturizer will help the appearance of any redness or flushing as well as cool any discomfort from overheated skin. 
For more dehydrated skin, Dr. Sebagh Supreme Day Cream is nourishing enough to intensely hydrate, while light enough to not weight skin down. It's packed with a powerful blend of antioxidants to help protect against free radical damage. Plus it contains protecting ingredients to help shield skin from High Energy Visible light (HEV/daylight) which is emitted from our laptops, smartphones and tablets. Talk about modern skincare!
To makeup, or not to makeup? That is the question! Most of us wear a little makeup to the gym – a touch of concealer, a brow gel, and maybe the makeup from our day if we're working out in the evening. Everyone should know their individual skin and what feels good for you, and also what it can tolerate without facing irritation. If you're noticing breakouts and congestion, use a detoxifying makeup wipe before your sweat session and a gel cleanser to really remove makeup and the day's debris. Or if you don't have time to cleanse pre-workout, commit to a skincare routine at night that includes a clay or clarifying ingredient to help keep your skin clear and smooth.
Have specific skin questions? Email us and a skincare expert will answer!