#CeleneCuisine: Cacio e Pepe & Bruschetta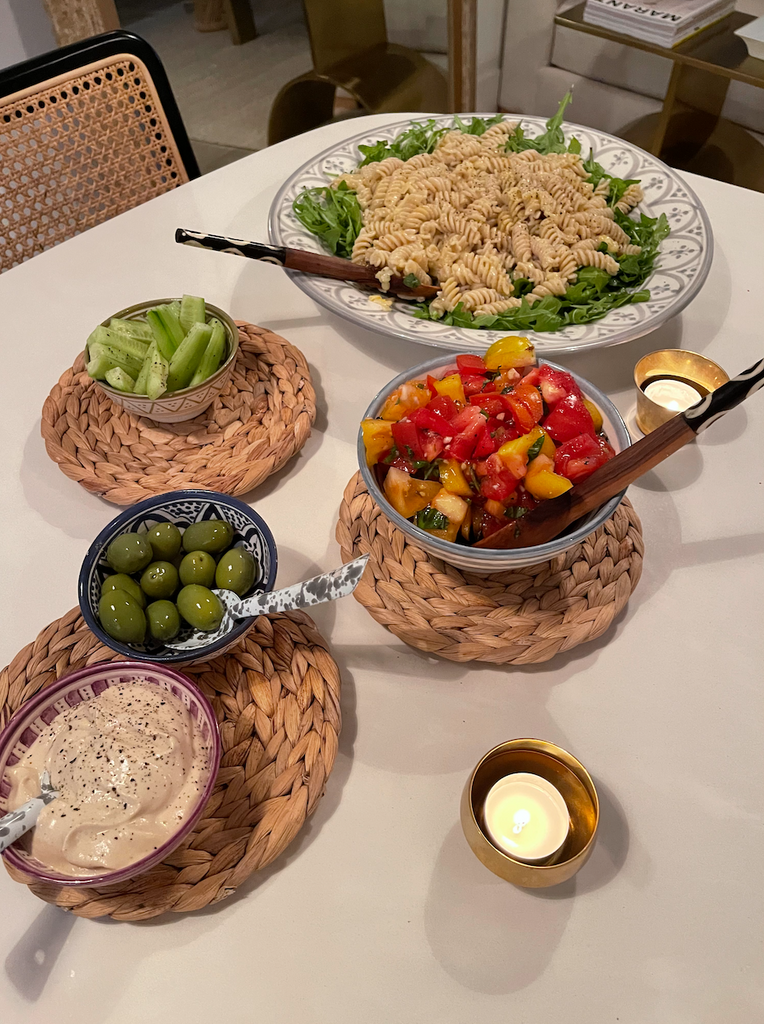 "
What else are Sundays for? It's a pasta party! 
Today I'm making one of your most requested dishes: Pasta with a side of bruschetta! My version is vegan and gluten-free, but feel free to swap for any pasta and cheese you like."
Celene shares her new favorite pasta dish, with her signature veggies in the mix. Find out her favorite kitchen tools, pasta shape, secret cooking and serving tricks, PLUS vegan + gluten-free options. 
Bruschetta
This is quick and easy and always a crowd pleaser. Generally anything with garlic always is! 
Ingredients:
• Tomatoes (I'm using Heirloom tomatoes here because I had them, but generally I like Roma or Cherry tomatoes for this dish)
• Fresh Basil
• Olive oil
• Fresh garlic (can use powder also)
Step One: chop 4-5 large tomatoes and let them drain in a strainer.
Step Two: add 2 tablespoons of olive oil.
Step Three: add 2-3 cloves of minced garlic.
Step Four: chop and add 5-6 leaves of fresh basil.
Step Five: add fresh ground pepper and a small pinch of ground pink salt.
Step Six: mix together in a big bowl and let sit in the fridge for at least 30 minutes (this helps all of the flavors develop).
Step Seven: transfer to serving bowl and enjoy.
Celene's Take on Cacio e Pepe 
This is a vegan and gluten-free version of a classic Italian pasta dish. I'm using an organic brown-rice pasta that I love and has the most similar texture, bite and taste to traditional pasta. I love using Fusilli because it holds a great flavor of any sauce and has a nice bite to it - it never gets mushy or too dense.
Ingredients:
• 1 box of pasta
• Pepper 
• Olive oil / ghee / butter
• Parmasean or vegan option
• Arugula (optional)
• Lemon (optional)
Step One: boil water (I always add some olive oil and course ground pink salt to bring to a boil).
Step Two: add pasta and cook for required time. While the pasta is cooking, grate the cheese.
Step Three: I'm serving my pasta on a bed of arugula which I add some fresh lemon juice to.
Step Four: when the pasta is done, drain the water but keep a small amount of the pasta water in the pot - about 3-4 tablespoons.
Step Five: stir the pasta and sprinkle in the cheese. The stove should still be hot but not turned on, so cheese should melt. If not, turn the stove on low and continue to stir, adding lots of fresh black pepper.
Step Six: transfer to serving plate and enjoy! My experience with the vegan and gluten-free version is that its best to cook, serve and eat as soon as possible.
Set the vibe
I love to create an inviting table. It really makes the meal an experience. Think about adding some small flowers, a few tea light candles, and some crudités, olives and dips. Add some
 

music

 

and lower the lights a bit. 
Bon appetite!