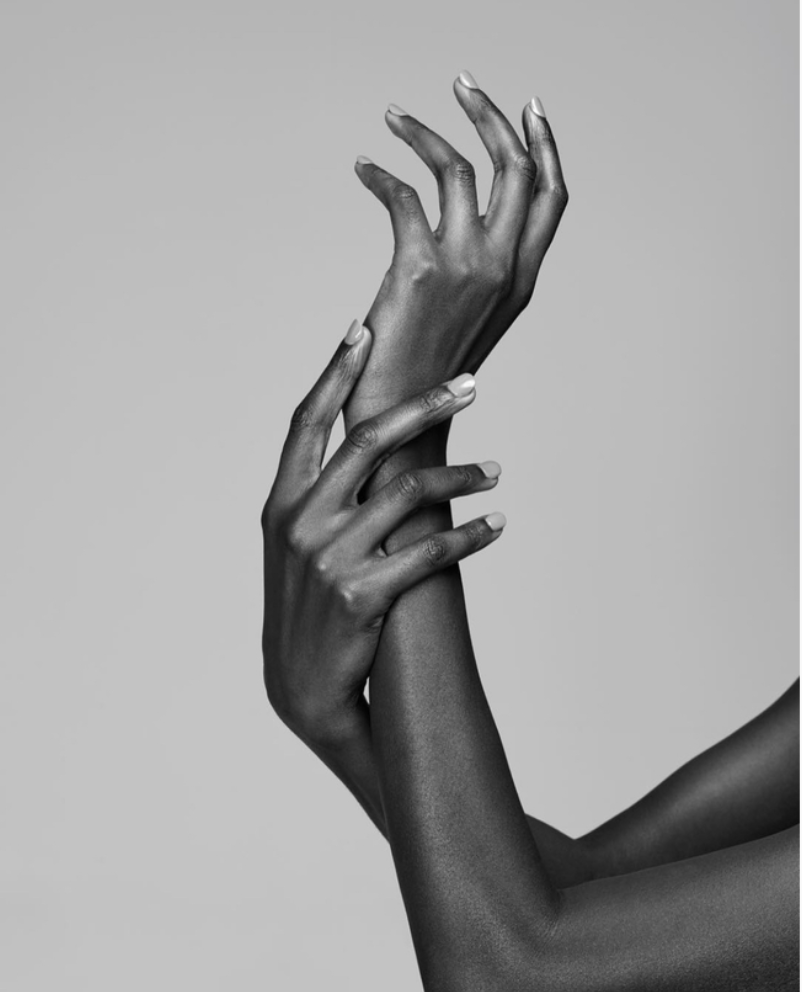 Image via Epara Skincare
Giving our hands some love with key tips & solution-driven products to hydrate, protect & moisturize.
While our focus remains on doing our essential part to keep each other safe, you may have noticed that dry, cracked hands have been an unwanted by-product of our increased hygiene, namely hand-washing & sanitization. If that isn't enough, we can be sure the winter months certainly aren't going to be kind to our hands -  so we've rounded up our best tips, product recommendations + expert advice to protect and treat dry, irritated hands. If the symptoms of rigorous hand-washing and sanitization have taken a toll on your skin, keep reading - we'll give you a hand!
TREAT & PREVENT
Before treating the skin, it is crucial that we understand how our hands may become dry, red, tight, rough and/or cracked as a result of good hand hygiene. The top layer of our epidermis is our skin's key protective layer — and frequent hand washing with exposure to water - oftentimes not at an ideal temperature, soap and hand sanitizers will disrupt and as a result, irritate, this layer. With our first line of defence compromised, it becomes less effective in preventing infection as well. So how can we avoid this? Moisturizing is the not-so-secret weapon against dryness! Moisturizers increase the water content + help to restore the barrier function of the epidermis and act as a protective layer on the skin.
Moisturization can begin while you wash your hands - if you avoid the typical, stripping hand washes and soaps. Take hand-washing to new heights with Ouai's skin softening Hand Wash. It gently cleanses and exfoliates skin with biodegradable jojoba beads, while creating a creamy lather with moisturizing avocado and rosehip oils. 
Image via @theouai
We know to moisturize our hands in the winter, thanks to the lack of moisture in the air — but it is just as important to moisturize after washing our hands too! Dryness can occur when the water from hand-washing isn't sealed into the skin. Lock in that immediate moisture with a moisturizer after washing your hands - it'll be more effective than treating damaged skin. Prevention is always easier than correction!
A dime-sized amount of Dr. Sebagh's High Maintenance Hand Cream will go a long way. This anti-aging hand cream is packed with antioxidants, peptides and hyaluronic acid to improve the texture and collagen in the skin of the hands. Apply as needed throughout the day and night for softer, hydrated hands!
Dr. Barbara's Sturm's Super Anti-Aging Hand Cream is also excellent. Formulated around potent, anti-aging ingredient science to protect the body's hardest working skin, the rich textured cream absorbs quickly, improves elasticity and prevents the hands from drying out, leaving them soft, supple and intensely hydrated. Daisy Flower Extract targets age spots while Hyaluronic Acid, Mangosteen and Quince have a plumping effect that reduces the visible signs of aging on your hands. Aloe Vera and Prickly Pear provide long-lasting hydration, and a special anti-oxidant complex supports the natural process of lipid retention in the skin, resulting in smoother and firmer-looking hands.
Image via @drbarbarasturm
Try the Comforting Body Cream from Epara if you're looking to pamper yourself. The luxurious, aromatic texture will leave you relaxed and your skin feeling supple and smooth. Layer with the UNSUN's Protect & Smooth Emollient Rich Hand Cream for additional moisture + nourishment and fight photoaging with its SPF 15 protection.  
Up your hand-care game even further with Miriam Gee's secret to youthful, hydrated hands. "The hands are constantly exposed to UV rays, pollution, heat and bacteria — so Vitamin C is crucial to improve skin tone, texture, density and hydration." Miriam recommends applying 1-2 drops of the SkinCeuticals CE Ferulic on the top of each hand every morning for optimal protection.
Image via @intothegloss
THE DOS & DON'TS OF HAND-WASHING
It may seem pretty straight forward but who knew there were hand-washing DONTs? Read our tips below for effective hand-washing — without the dryness.
Avoid using hot water as it has a tendency to dry your skin — opt for lukewarm water instead.

Go easy with the towel: a gentle blot-dry will do — wiping may cause micro-abrasions on the skin. Use a soft microfiber towel to gently dry your hands and avoid micro-tears.
HYDRATE FROM THE INSIDE OUT
A lack of water intake will do your epidermis no favours. Targeted products + hand-washing can only do so much to hydrate your hands so don't forget to drink water! The average person at a minimum, should consume approximately half their body weight in ounces of water per day. Check out Dr. Candice Todd's herbal water boosters if you're looking to give plain old water a makeover.