Miriam Gee's Guide to Ageless Makeup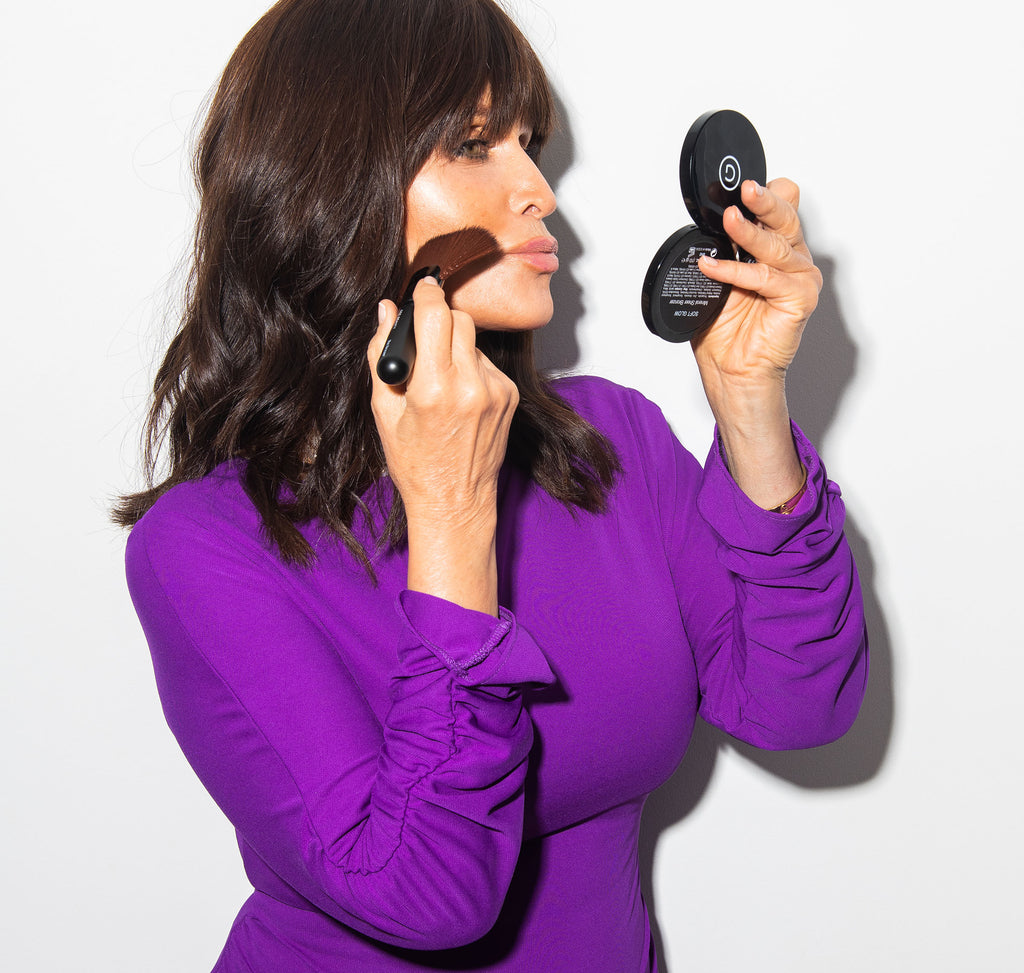 "Before I co-founded Gee Beauty in 2005, I was a professional makeup artist, working on-set with some of the best photographers, models, and stylists in the business. You could definitely say I've honed my skills! Since opening our studios, I've had the privilege of creating makeup looks for our incredible clients – helping them feel beautiful, and showing them my techniques to achieve a naturally gorgeous look."
I'm sharing my everyday makeup steps for you to become your own artist. It's my golden rule to create a shape, contour, and add brightness to my face. Keep reading for my mature skin tips, secrets to ageless makeup and a step-by-step to get the look.
Brighten (Concealer) 
First step I do is to apply our Soft Blur Radiance Priming Balm to the eyes and face. It provides radiance, soft focus finish to the skin, blurs the fine lines around the eyes and smooth out the skin. Next, draw an upside-down triangular shape under the eyes with our Photo Touch stick concealer. Next, add concealer on the top lid and the inner corners of the eyes closet to the bridge of the nose, and around the mouth and chin. 
Next, the secret is to blend, blend, blend.
Blush
Choose a blush with a slight illuminating property, like Renoir or Cocobeam. Place in the cheekbones and blend towards the apples of your cheeks, up to the middle of your pupil using the Blush Brush. A little on the bridge of your nose and above the eyebrows. This creates a youthful glow and brings warmth to the skin.
Sometimes I wear blush as a eyeshadow in my crease – it creates an all-over glow effect, kind of like un-intentional, effortless makeup, plus I love using products in multiple ways.
Brows
Brows are so important because they frame your face, and separate your eyes from your forehead. If shaped and filled-in well, they can really lift the eyes up.  
Trace an imaginary vertical line from the outer edge of the iris of your eyes and that where your arch should be. Fill in where needed. The arch is crane that lifts the eyes. A fuller looking brow also helps create a youthful, modern look. For more details on how to fill your brows in, watch here. 
Lips
The lips are an area I love to create some fresh fullness with. There is a lot we can do for the lips to create volume and a lift. Here is how to prevent lipstick from feathering (bleeding). Feathering can become more of a concern the older we get and can come as the appearance of uneven lips.
1. Choose a lipstick that is not wet or waxy, gloss is not your best choice.
Our Luxury Matte lipsticks like A Gee Thing, Julia, Sophia, Melrose, Chrissy and Red Carpet are fantastic because they suspend pigment for a long-lasting effect without being too thick or matte, and have a soft cushion. They're creamy with a modern matte finish.
It is very important to use our
 

Sugar Lip Scrub

 

and our

 

Smoothing Lip Balm

 

as primers to the lips to exfoliate and hydrate. Once finished, ensure the lines around the mouth are dry.  
2. Choose one of our Gel Lip Pencils – they're waterproof, don't feather and last up to 7 hours.
Outline the lips around the outer edge of the lip line – its ok to exaggerate it a little because we blend well towards the center. The hydrating gel lipliner acts as a barrier between the lipstick and lips. 
3. Blot the lips with your fingers or a pointed small brush. 
4. Apply a touch of powder lightly – like our Shell Mineral Powder to help absorb any oil. I stay away from loose powder. 
5. Apply lipstick – but the key is not to apply too many layers. One layer is ample when the lipstick has good pigment.
6. On the outer corners of the lips, place a little concealer to narrow the mouth shape and blend. This helps create a professional looking application and you can actually create the lip shade you want. Using a concealer brush also helps clean up any lipstick smudges.  
Mascara
1. Curl lashes – this is key with making your lashes and eyes look bigger and lifted. 
2. Take a compact hold it close to you at your shoulder length, flip the mirror to face you so you can look down to the mirror as you apply the mascara. I swear by this trick. It's a different angle, and you can get very precise. It's all about looking down into the mirror. 
3. Start at the base of your lashes and press gently into the base.  By pressing it creates a liner effect, and gives the base a thickish appearance. (Youth in a wand). Start with the base and move up toward the top.  It's very lifting and eye awaking to the any shape eye. Wiggle the wand to separate each lash.  
This technique allows you to get very close to your eye and mostly prevents mascara to deposit on the top eye bone.
Bronzer
I finish my look with a sweep of our Golden Glow Bronzer, gently across my cheekbones, under my jaw, across the top of my forehead, and down the bridge of my nose. The Fan Brush is the secret trick. It deposits a light amount of bronzer so it's never overdone, and can be layered well. You can apply it again directly under the cheekbones for more of a contoured look.
Want to learn more makeup looks? Book a complimentary virtual makeup consultation with one of our makeup experts
 

here. 
Shop my go-to products
 

here.
Watch my Skincare Masterclass
 

here

 

to learn my skin secrets to getting a luminous glow.