Self-Care Starts In The Bath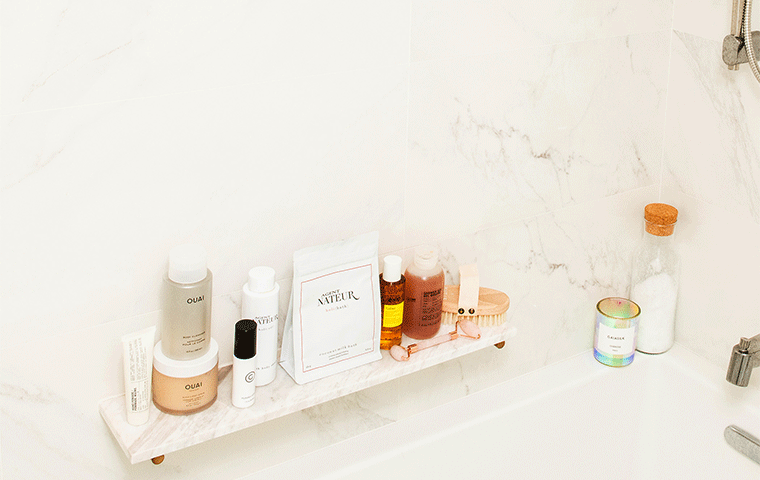 Celene Gee's tips for a truly transformative bath time
"Bath Time is really my self-care time. A good bath can really help me unwind, & create some space & separation from the day's stresses. Sometime's I'm like a totally new person! It's also a great way to signify the end of the day, & time for your nighttime routine to begin."
 Here are a few of my favorite practices, even a few daily can make a big difference.

If you want to apply a face mask, apply it before the bath so it has time to do its work! Cleanse the skin, apply the mask, and fill up the bath. Some of my favorites are the Dr. Barbara Sturm Face Mask and the Dr. Sebagh Skin Perfecting Mask



Dr Barbara Sturm Face Mask
Dr Sebagh Skin Perfecting Mask


While the bath is filling, now is the perfect time to dry brush the skin. This is a game changer for the skin, for your circulation, for lymphatic drainage and to improve the texture of your skin. Start at the ankles and brush up with short strokes towards the center of the body. Same for the arms - start at the wrists and brush inwards towards the heart center.



via @goop
Dr Barbara Sturm Dry Brush

I love adding organic epsom salts as the bath fills its such a detoxifying and stress-reducing experience, I buy the organic eucalyptus epsom salt from Whole Foods. Helps to alleviate soar muscles as well. I try to make the water as hot as possible for my liking.

 I always add an oil and a shower gel to the bath. The oil really nourishes my skin, and well I just love a little bit of bubbles too! About once a week I do a really good body exfoliation as well.

Agent Nateur Youth Body Serum
 Le Labo Hinoki Shower Gel
Ouai Salt & Body Scrub
 If I really need to decompress, I add a few drops of essential oils into the water. I also drop a few into the palms of my hands, rub together and then take a few deep breaths. Also a game changer.
As the bath is draining, I apply a small amount of body oil to my legs and arms, and any areas that tend to get a little dry. If I need extra hydration I apply a body cream while my skin is still damp. 


My favorites are the Ouai Body Crème and the Dr. Barbara Sturm Body Cream