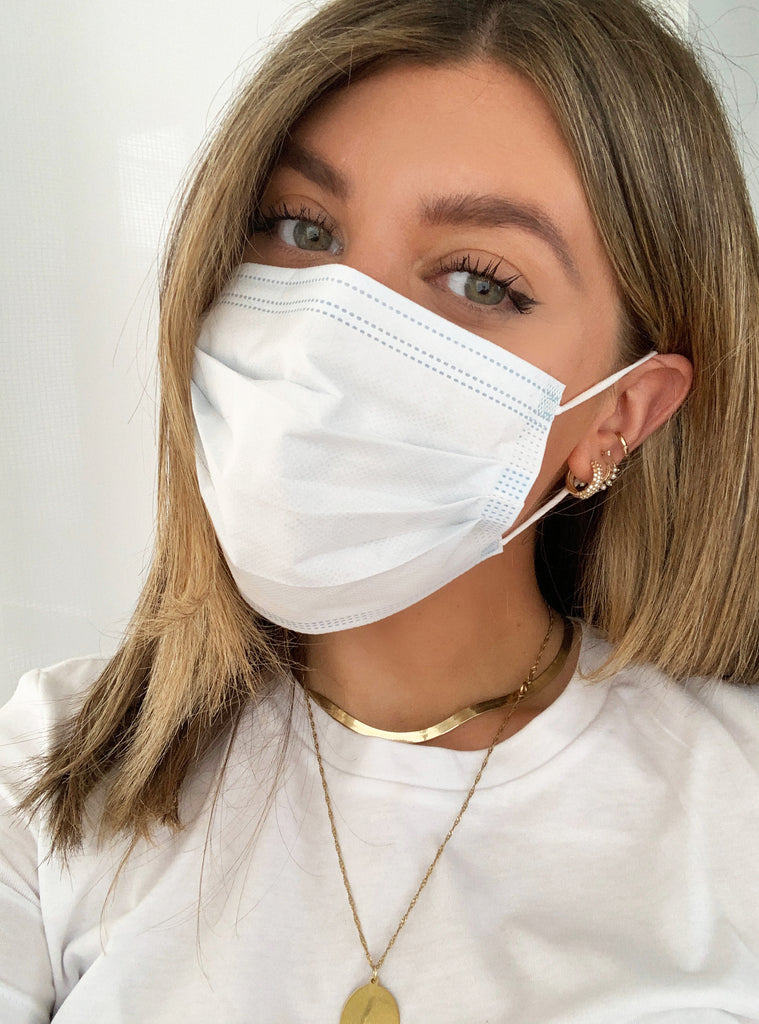 Giving our skin a little TLC with key ingredients, products & regimens to soothe & smooth.
While we're all focused on doing our essential and important part to keep each other safe and well, wearing a protective mask can definitely take its toll on our skin - so we've rounded up our best tips, routines + expert advice to help prevent breakouts, irritation & added skin stress.
The key to keeping our skin in check is to find a balance in the way we treat the skin. Finding balance definitely takes patience, and trust us, we're with you!
 

It can be frustrating to see your skin react in a way it usually doesn't. Taking some time to figure out what your skin really needs - with fewer products -

 

while balancing time for it to calm

 

and repair itself, will have your skin back to itself soon.
Keep reading for tips to calm your skin or combat mask acne, plus & a step-by-step skincare regimen catered to your skin type.
Oily Skin Type 
AM
Avoiding or limiting how much makeup is worn beneath the mask may significantly reduce skin irritations. This one might be harder for a lot of us, but makeup is ultimately another layer on the skin that clogs pores, leading to congestion and other skin issues. Try this for a week and see if you notice a difference!
CLEANSE
In the AM, always start your day with a cold-water facial rinse to shrink up your pores. If you do a morning cleanse, use a purifying cleanser like Sunday Riley's Ceramic Slip which has green clay to help decongest the pores without stripping the skin of essential moisture. The Dr. Dennis Gross Alpha-Beta Pore Perfecting Cleansing Gel is excellent if you're experiencing breakouts because the Salicylic Acid can help breakdown excess oil, target impurities and eliminate blemishes. 
Toning is critical. It prepares the skin for the active products that will be applied afterwards, as well as calms + balances the pH of the skin. Try Dr. Barbara Sturm's Balancing Toner, which contains hyaluronic acid, or the Gee Beauty Brightening Cleansing Water, containing aloe vera, to help keep a more neutral state to the skin.
TREAT
Next, treat the skin with an acid-based treatment. For more sensitive skin that can get oily or congested, the Dr. Barbara Sturm Clarifying Serum works well to calm breakouts while soothing the skin with purslane, zinc and hyaluronic acid. For thicker stick, Sunday Riley's Good Genes contains lactic acid to help keep skin bright, even-toned and clear, while refining the skin like a daily exfoliant. If you've never used this before, start using it about 3 x weekly instead of daily. These treatments will work deep in the pores to breakdown sebum, reduce inflammation and decongest the pores while wearing the mask. Make sure to massage the serums into the skin to truly activate the ingredients and penetrate deep into the skin. It's seriously relaxing too!
BALANCE
Hydration is key. In order to prevent breakouts while wearing a mask, the skin needs a fine balance of acid and hydration. If the skin is overly-activated from acids, it causes the skin to 'panic' and lead to an overproduction of oil, resulting in unwanted breakouts. Ensuring the routine is sealed with a water-based serum or moisturizer will prevent breakouts. Apply a thin layer of Sunday Riley's Tidal Enzyme Water Cream or Dr. Dennis Gross' Hyaluronic Marine Oil-Free Moisture Cushion if you opt for a cream hydrator. Try Dr. Sturm's Hyaluronic Serum or the SkinCeuticals Hydrating B5 Gel if you prefer lighter serums. These light hydrators are all formulated with a potent and highly-penetrative hyaluronic acid to boost hydration levels in the skin. If your skin is truly combination, try the SkinCeuticals B5 Masque. An additional moisturizer is optional, but keep in mind we want to minimize the layers of product on our skin to avoid congestion and ensure our skincare is effective.
Lastly, you can go in with with a targeted spot treatment like Dr. Sturm's Clarifying Spot Treatment, which contains zinc and tea tree extract to reduce the inflammation of breakouts.
PM
CLEANSE
Equally as important as what we put on our skin before we start our day is how we treat the skin once we get home. Once you have removed your mask for the day, it is imperative to treat the skin quickly after. Remove all sweat, bacteria and makeup from the area with cotton pads soaked in cold water and then pat dry with a towel. After cleansing with a gentle cleanser, apply a generous amount of toner to your cotton pad and give the skin a good wipe again. Though you just cleansed, you will still notice excess impurities from your day, ranging from oil to make up to dead skin cells and everything in between, come off on your cotton pad!
TREAT
Use the Dr. Dennis Gross Peel Pads everyday or alternate days if you wish, depending on your skin's sensitivity. They come in three strengths, but we recommend the Universal Daily Peel Pads. It reduces breakouts and provide a deep cleanse + exfoliation of the area. Let the acid penetrate for a few minutes before you continue on with your routine.
BALANCE
Finally you can go in with your hydrators again — either a serum or water-based moisturizer — to seal everything in. The SkinCeuticals Phyto Corrective Gel is also an excellent anti-septic, anti-bacterial hydrating serum and has such a calming effect on the skin.
Use your tools! They will be your best friend to calm the skin down. Pro tip: keep your jade roller or gua sha in the fridge to provide the ultimate cooling effect. It will instantly soothe the skin, limit the spread of bacteria, reduce inflammation and signal to your skin that it can breathe again. It's so relaxing too which is an added bonus! Use it as long as you need to and unwind from your day.
Both pre + post mask routines are critical in keeping the skin balanced, calm and the circulation regulated. You are ultimately re-training your skin to know what to do during the day and how to relax when the day is done. Stick to both these routines consistently and you will notice a difference in your skin in as little as two weeks!
Dry / Sensitive Skin Type 
AM
CLEANSE
Start your morning off again with cold-water facial rinse. Use a calming, nourishing cleanser such as the SkinCeuticals Gentle Cleanser, Dr. Sebagh Rose De Vie Cleanser, or Tata Harper Refreshing Cleanser. These cleansers will gently remove excess impurities and oil without drying or stripping the skin of its natural oils or moisture. Skin is left feeling balanced, calm, refreshed and hydrated.
Tone with Dr. Sturm's Balancing Toner or our Brightening Cleansing Water. Agent Nateur's Holi(water) Pearl + Hyaluronic Toner is also incredibly antioxidant-rich, containing ingredients such as lavender water, pearl, and rose, to help gently reduce the appearance of acne. Apply a generous amount to truly balance and prep your skin for what's to come!
TREAT
Facial oils will be your best friend and thankfully, a little goes a long way! Treat the skin and provide it with optimal nourishment with nutrient-dense oils like the Epara Balancing Face Oil, Dr. Sebagh's Rose De Vie Serum or the Agent Nateur Holi(Oil) Youth Serum. These are all thin, moveable and most importantly, breathable facial oils. Lightly massage the oil into your skin to penetrate the nutrients and promote lymphatic drainage.
BALANCE
Follow with a thin layer of a lightweight, hydrating mask like Dr. Sebagh's Rose De Vie Mask, Tata Harper's Hydrating Floral Mask or the SkinCeuticals Hydrating B5 Masque. Lightly massage the mask into the affected area as well to ensure deep penetration into the skin. Moisturizing hack: a mask gives you more hydration than a cream as it locks in the oil + toner you just balanced the skin with!
PM
CLEANSE
Cleanse the skin immediately after getting home and removing your mask. Remove all sweat, bacteria and makeup from the jaw, chin and cheek area with cotton pads soaked in cold water and then pat dry with a towel. Follow with a gentle cleanse again and go in with your toner to calm the skin.
TREAT
If you typically exfoliate once a week, you may considering upping your exfoliation especially around the affected area. Use the Dr. Dennis Gross Ultra-Gentle Peel Pads every other day to buff dead skin cells, combat the additional congestion and promote cell turnover. Even if your skin is on the sensitive side, there is still an accumulation of dead skin cells which need to be exfoliated. The Peel Pads do just this, increasing cell renewal + turnover. If you feel your skin can handle a higher strength, opt for the Universal Strength or Extra Strength peel pads. Wait a few minutes, then apply a small amount of your facial oil again before you go in with your hydrating serum or water-based moisturizer and cold sculpting tool. This cocktail of hydration + moisture will give your jade roller or gua sha a nice slip across the skin and the cold tool will lock in both the hydrators and the effects of the acid working hard underneath it!
Apply a clay-based mask 1-2x per week like the SkinCeuticals Clarifying Clay Masque. This non-drying masque combines kaolin and bentonite, the highest quality earth clays; a hydroxy acid blend to gently exfoliate; and aloe and chamomile to calm and soothe the skin. Dr. Sebagh's Skin Perfecting Mask also refines pores, purifies and provides a deep clean. You can even use a tiny dab of the clay mask as an overnight spot treatment! Stephanie Gee tip: try leaving your clay mask on during a shower as you wash your hair. The heat + steam from the shower activates the clay in the mask!
BALANCE
Lastly, always carry a hydrating mist in your purse! It is so pivotal as you have breaks from your mask throughout the day when you are alone (in your car etc.) and you should be hydrating the skin any chance you get! Use our Hydrating X3 Mist, or Dr. Sturm's Hydrating Face Mist, or Epara's Hydrating Mist. Generously mist your skin when you are alone to calm your skin, provide it with the hydration it needs and let it know it's time to breath — even if it's just for a little while!
QUICK TIPS
Apply your products with intention and positive energy
Try to cleanse your skin as soon as you get home so you can help eliminate impurities and congestion, and putting your repair products to use quickly
When you see your skin acting up or not co-operating, take a few deep breaths. Skin reactions like this are temporary and we can work together to help calm and soothe
You can shop the collection

 

here

Stephanie Gee walks you through this process with her

 

IGTV

 
Stay tuned for an application video from Stephanie Gee!