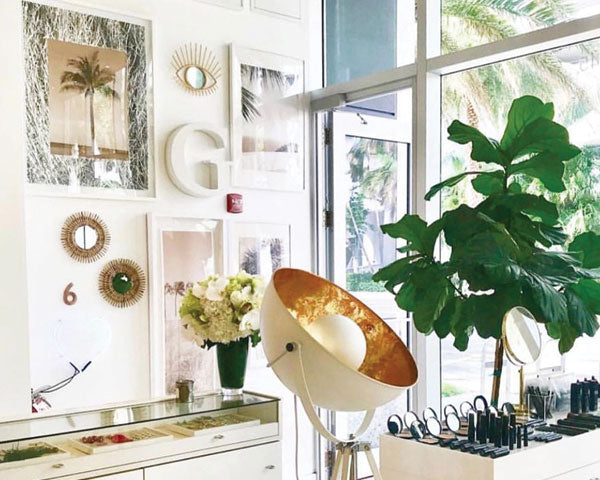 May 27th 2020
To our valued clients and friends of Gee Beauty
We are looking forward to re-opening our Miami Beach Studio for retail and beauty treatments on Wednesday June 3rd.
Our first priority is the health, safety and wellbeing of our team and clients. We have been working diligently on implementing the highest of standards in safety protocols, protective measures, and new client guidelines and policies. We are ensuring our entire team is highly skilled in providing as safe of an environment as possible, while providing our best possible Gee Beauty experience.
• Our studio has been professionally deep cleaned + disinfected, and freshly painted 
• Each night, our studio will be thoroughly and professionally cleaned
• We will be conducting frequent daily cleanings of all high-touch surfaces (including door knobs, light switches, countertops, handles, desks, phones, keyboards, toilets, faucets, sinks)
 
•  All treatment rooms including professional equipment will be thoroughly cleaned + sanitized in between clients
 
•  We have installed a UV (ultraviolet) light in our Air Conditioning system to help eliminate bacteria
 
•  We have installed plexi-glass space dividers for enhanced social distancing and separation
 
•  Designated floor markers indicating social distancing
 
•  Our team will have daily temperature checks, conduct frequent hand washing, wear appropriate PPE including masks, face shields, gloves, and gowns worn by skin therapists
 
•  Hand sanitizer will be provided for all
 
•  We have optimized our studio schedule to include more time for cleaning, and less team members and clients in the studio at one time to adhere to social distancing
 
•  We will be operating at 25% capacity at this time, with no more than 12 people in the studio at one time (including team and clients)
 
•  At this time, we will be open 5 days a week, with shortened hours to best adhere to necessary protocols and procedures
 
•  We continue to have Curb-Side Pick-Up available and shipping for any orders on geebeauty.com
WE ARE IMPLEMENTING NEW CLIENT HEALTH & SAFETY GUIDELINES THAT MUST BE OBSERVED WHEN VISITING GEE BEAUTY
We ask that you do not visit Gee Beauty if you have travelled outside of the country within 14 days
When booking and confirming appointments over the phone, our team will be asking if you have travelled outside of the US within the past 14 days, if you have come into contact with anyone who has COVID-19, if you have any symptoms including fever, cough and shortness of breath
 WHEN YOU VISIT GEE BEAUTY:
• We will have hand sanitizer available for use
• It is essential to wear a mask at all times while at Gee Beauty. We will provide masks in the case that you do not have one
• Please do not come to the studio when you are feeling sick or showing any symptoms of COVID-19
• Please call to cancel or reschedule your appointment with as much notice as possible
 • We will be taking temperature checks of clients who are arriving for a service
• Please come unaccompanied (if possible), with no pets
• Please limit your personal belongings to one item
• Please arrive at the time of your appointment as we will not have a seating area to wait
• Please wear a mask (covering of the mouth and nose) at all times when in the studio
• Please follow social distancing in the studio as much as possible, staying 6ft away from other clients
• We will now be cashless and not accepting cash as payment for services or products
 We look forward to seeing you and we thank you for your continued trust in us
We appreciate your understanding that we are working as hard as possible to accommodate you.
TO BOOK AN APPOINTMENT OR IF YOU HAVE  ANY FURTHER QUESTIONS, PLEASE CALL US AT 305.868.3533