The Red Lip: The Iconic Look That Gets All The Attention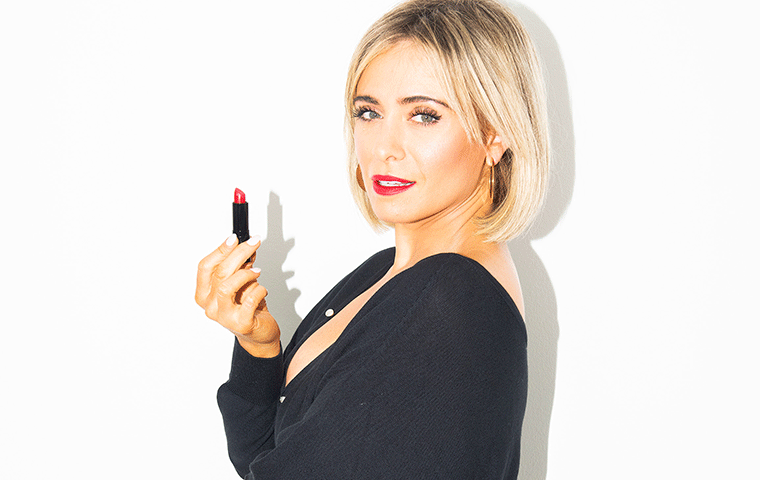 "Nothing makes a makeup statement like a red lip. Its empowering, it's chic, it's transformative."
-Natalie Gee
A red lip is an iconic & timeless staple for any holiday look. Whether you're putting your hair up & heading out for festive cocktails, or ringing in the New Year, we've got all the most gorgeous red lipsticks a girl could want, right here.  
Gee Beauty Makeup Artist Alisha Adat-Nurani's Best Tips For a Flawless Application:
- Always ensure lips are smooth and hydrated for the most natural and polished look; the Gee Beauty Sugar Lip Scrub & Smoothing Lip Balm is perfect for this
- Dab a touch of oil-free foundation on the lips to even-out the base color for the truest shade of the lipstick to come through
- Line the lips with a pencil and fill in the whole lip area to ensure the color lasts as long as possible
- Using a lip brush or the finest point of the lipstick, apply the color from the center of the lips outwards, pressing lips together to help distribute color
- Finish the look by fixing any smudges with the Gee Beauty Concealer Brush and a touch of concealer - this is the magic trick! 
Gee Beauty Sugar Lip Scrub
Gee Beauty Smoothing Lip Balm

"Nothing makes me feel more glamorous than a classic red lip. It is my favourite secret weapon for an easy, effortless confidence boost. Red lipstick can make your teeth seem whiter, your lips seem bigger, and your face seem more youthful and feminine. No matter what your age or skin tone, there is a perfect red lipstick for you!"
-Alisha Adat-Nurani
Alisha Shares Her Tips For Finding The Best Red Lipstick For Your Skintone:
Finding that perfect red may seem the impossible task, yet a lineup of flawless options does exist, for every skin tone.
Fair
Fair Skin can be easily overwhelmed by a colour that is too intense, so it is important to choose a red lip combo that has softer undertones. Neapolitan Waterproof Lip Liner is truly the hero product of this red lip for fair skin: it is a gorgeous soft coral with a neutral red undertone that pairs perfectly with Infrared Lipstick, which can be applied sheerly for a vivacious pop of colour.  
Liner: Gee Beauty Waterproof Lip Liner in Neapolitan
Lipstick: Gee Beauty Ultra Matte Lipstick in Infrared 


Olive 
A red lip that has a slightly warmer hue looks stunning on skin with olive/neutral undertones. Our matte lipstick in Marilyn is the perfect vintage orange red - layer with Maraschino lip liner for a modern ombre effect on the lips.


Liner: Gee Beauty Waterproof Lip Liner in Maraschino
Lipstick: Gee Beauty Luxury Matte Lipstick in Marilyn 
Medium
Infrared Luxury Matte Lipstick and Maraschino Waterproof Lip Liner are literally the world's most perfect red lip combo. The two shades together provide bold definition on the lips and the blue undertone of the lipstick and liner combines will make your teeth seem brighter and whiter. 
Pro tip: Try filling in your lips with the lip liner and layering the lipstick on top for a budge-proof, kiss-proof red lip that will last you all day. 
Lip Liner: Gee Beauty Waterproof Gel Lip Liner in Maraschino
Lipstick: Gee Beauty Ultra Matte Lipstick in Infrared
Medium-Tan
Medium-tan skin is typically accompanied by a varied natural lip tone that typically shifts one to two shades darker at the corners of the lips. 
Pro tip: Use a darker lip liner to rebalance and mimic the natural gradient of your lips. Using Plum Wine Lipliner, line the perimeter of your lips and fill in the outer corners of your lips, leaving the centre empty. Smooth Infrared Lip Stick onto lips, ensuring to completely cover the areas with the lip liner. Tap gently with your finger to blend and voila! The most perfect gradient red lip for medium-tan skin tones. 
Liner: Gee Beauty Waterproof Gel Liner in Plum Wine
Lipstick: Gee Beauty Ultra Matte Lipstick in Infrared
Deep
Using a lipstick with a burgundy undertone looks stunning on deep skin tones. Our Cream Lipstick in Seductive Scarlett has a beautiful balance of red, burgundy, and brown that perfectly accentuates and defines the lip. This hydrating formula is filled with enriching mango seed and shea butter to keep lips smooth, soft, and hydrated all day long. 
Lip Liner: Bordeaux Waterproof Lip Liner
Lipstick: Seductive Scarlett Cream Lipstick 
For more Gee Beauty makeup tips, tune into @redhotrightnow and @geebeauty xx