The Best Vitamin C for You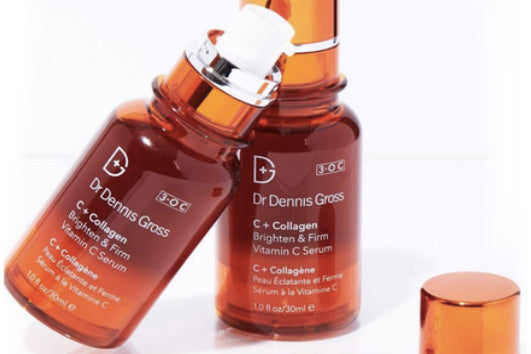 We all know that SPF is essential to protecting your skin from sun and free radical damage. But your regiment may be missing another key ingredient that's essential to long-term skin health and resilience: Vitamin C.
Why It's Essential
Packing the power to both prevent and reverse damage, vitamin C is a unicorn in the skin care universe. And according to Stephanie Gee, its multitasking power is almost too good to be true. Not only does it maintain collagen, elastin, and youth in the skin, it also simultaneously repairs pigmentation — which is a good thing all year round.
"With the right level of vitamin C, a 15% concentration, the skin can be protected from all UV damage, pollution damage, and even skin cancer," Stephanie explains. In her opinion, vitamin C is the best long-term investment you can do for your skin.  "I recommend it to anyone who is interested in taking care of their skin because it is focused on skin health. Beauty is a second result."
How to Use It
Vitamin C is most commonly found in the form of a serum. Because vitamin C is so nutrient-packed, it should always be applied as the first layer in your morning skin care routine so it can be most readily absorbed into your skin.
"It only needs to be applied once a day because it stays in the skin for at least 24 hours," Stephanie explains. "It layers well with the rest of your skin care products because once it is absorbed into the skin, it helps the skin to utilize any other ingredients that are applied."
That being said, vitamin C alone is not always enough to protect you from all UVA and UVB sun damage. Always apply a broad-spectrum sunscreen rated at SPF 40 or higher, such as EltaMD UV Daily Broad-Spectrum SPF 40 Tinted Sunscreen, as the last step of skin care before makeup application.
"SPF is more of the physical protection, like an umbrella, that protects the skin on a more superficial level," Stephanie explains. "It's important because it will act as a seal for all skincare applied to the skin and will prevent the skin from burning."
Ready to add some vitamin C to your routine? Keep reading for the right products for your skin type — and don't forget the SPF.
Sensitive Skin
If you have sensitive skin, it's a good idea to try a lower vitamin C concentration, to see how your skin reacts to it, before committing to the recommended 15% formulation. "SkinCeuticals Serum 10 has a 10% vitamin C concentrate," says Stephanie. "This way, you can work up the skin's tolerance up to a 15% formula." 
Oily and Combination Skin
Try: SkinCeuticals Phloretin CF
If you have oily or combination skin, try a lighter weight formulation. "SkinCeuticals Phloretin CF is an oil-free vitamin C serum that helps to minimize breakouts and does not clog the pores," says Stephanie. It also contains phloretin and ferulic acid — powerful, plant-derived antioxidants that help enhance the performance of vitamin C.
For Dry and Anti-Aging Focused Skin
This formula also features ferulic acid, plus one other super star that complements vitamin C. "This serum contains vitamin E, which acts as a hydrating lipid and gives a beautiful glow to the skin." (Not to mention it's the one product Gee Beauty founder Miriam Gee would bring on a desert island.)
For Vitamin C Serum-Sensitive Skin
Try: Dr. Sebagh Vitamin C Powder
For those who have experienced a reaction to tradition vitamin C serums, Stephanie recommends the Dr. Sebagh Vitamin C Powder, which has a 15% concentrate and can be mixed into a serum that doesn't irritate your skin. Try mixing it into a hyaluronic acid, calming serum, or any SPF. "Apply the mixture into the skin in the morning. It absorbs instantly and has the same power as a serum." Bonus: Because this product is a powder, it's also travel-friendly. Win-win.
Book a complimentary consultation with one of our skin experts to help you determine the best vitamin C for you.