6 Ways To Update Your Space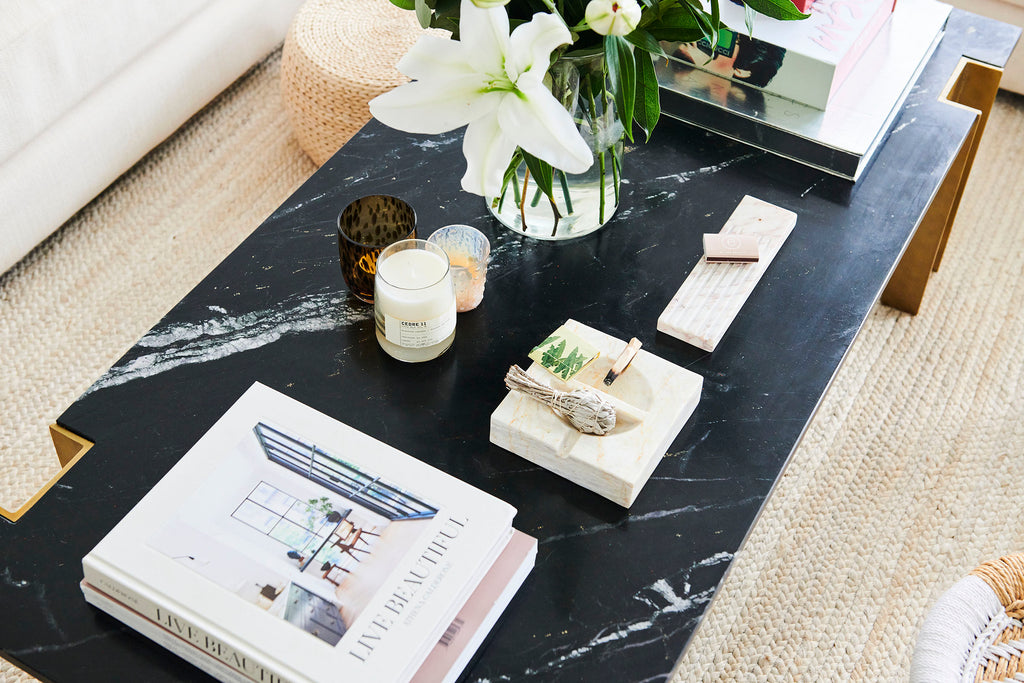 Since our homes have become our offices, gyms, restaurants, spas and personal little sanctuaries, every square inch, corner and surface has become so important. Freshening up or organizing your space can be simplified with a few of our favorite instant refresh tips. Space transformations ahead.
Keep reading to learn how we like to decorate + 6 ways to update your space.  
Tidy & De-Clutter
Small habits like daily bed-making and tidying up the bathroom and kitchen after each use make a big difference. No one needs to be cleaning all day everyday, but focusing on the small wins like putting dishes away after each use prevent a bigger build-up of chores. Throwing laundry in the machine in the morning, changing it at lunch and then folding while your dinner bakes helps increase productivity, and cuts down on the weekend laundry basket task. Sorting through papers on the desk, dining table or kitchen counter actually can help create a more serene, relaxing environment. A less cluttered environment can help create a more peaceful feeling for a lot of us. To paraphrase Marie Condo, "does this spark joy?"
Candles
Lighting your favourite candle helps enhance your vibe and space. Everything from the scent to the light of wick can create a special moment.
Gee tip: try having a few different scents for different moods, times of day or weather. We love Le Labo Cedre 11 for cozy winter days, Le Labo Santal 26 to create a mood for pre-dinner or cocktail hour, and 6 By Gee Beauty Bois Vanille for weekends lounging in bed or while you organize your bathroom. 
Flowers
Flowers and greenery bring so much joy and beauty. Bringing living plants into your home can boost your overall wellbeing and remind you of being in nature, which of course has countless benefits.
We love having a signature flower like white lilies, or mix of greens. Or switch it up every so often and bring in some color for freshness. Buy a bunch, like 6 - 8 stems, and distribute them all over your home: one in the bathroom, a few at your entrance way, a few in the kitchen, and on the coffee table or beside your tv. Often looking at beauty can help alleviate some stress.
Scent
Using a home diffuser like Vitruvi with a few drops of an essential oils blend can truly transform your space and energy. It can instantly relax, soothe or remove you from a moment of stress or intensity. Putting it on in the morning time during a stretch or meditation, or once your workday is done to signal a break in the day is so useful to help transition to different parts of your day, particularly when working from home. Sage and Palo Santo can do the same thing! 
On The Coffee Table
Creating a "scene" or set-up on your coffee table is a great design trick that can be fun, changed up often and speak to your design personality too.
A good mix of a few beautiful books (any book on something you're interested in - like home decor, fashion, photography, cars, classic film or travel destinations) can instantly speak to your vibe and personality. Add some flowers, a candle, maybe a tray to keep everything organized (like TV remote controls) and some fun items like a deck of cards. Keeping the coffee table tidy and organized can help keep the whole living room looking good. 
Music
Music is probably the quickest and most transformative way to add an experience to your home. Whether it's to signal that it's time for a workout, dance break or to move your body, to cook dinner or to unwind, the right playlist enhances or even shifts your mood.
Need inspiration? Listen to our Gee Beauty playlists
 

here. 

Did you know we also carry lifestyle items, inspired by our Toronto lifestyle store 
6 By Gee Beauty
? Shop Le Labo, Vitruvi, Smudged, Lisa Gozlan and more 
here
. 
Looking to introduce some new self-care rituals and at-home beauty routines? Read about our Feel-Good Routines
 

here.