Celene Gee's Tips For Resetting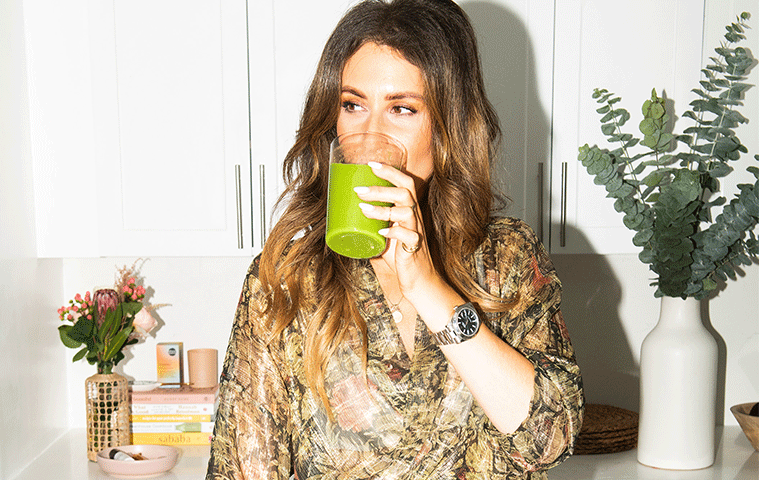 "I've been making this Glowing Green Smoothie for 5 years now and its essential when I want to get back on track, help digestion and get a glow in my skin."
A good smoothie doesn't need to be complicated. This two minute smoothie recipe is the perfect on-the-go pick me up. If time is of the essence, I suggest making a larger batch and keep in the fridge for a few days, but if I can I like to make it fresh in the morning. 
Add the below ingredients in a blender:
 | Gluten Free | Vegan | Serves 2 | Time : 2 Min |
Opt for Organic Ingredients
one big handful of spinach, kale, or both
one frozen banana
one cut-up green apple
the juice of half of a lemon
half of an avocado
one cup of water

Blend & throw in your best reusable cup 
Feel free to add another favorite fruit. Sometimes I had a few pieces of pineapple or mango, or blueberries. It's also an amazing base if you want to add any plant-based supplements or powders like The Super Elixir, or some Spirulina.



Welleco Super Elixir Greens Pineapple & Lime
Welleco Super Elixir Greens Lemon & Ginger 

How Celene Does A Day Of Reset:
Get your body moving first thing in the morning to create circulation and blood flow throughout the body, giving your skin a healthy glow. Celene favourite at home work out - @melissawoodhealth


Make a smoothie and eat alkaline first.
Think berries & lemon water!


Substitute coffee for a matcha latte


Give myself a facials, depending on my skin needs.
I am loving the Dr Barbara Sturm Face Mask to invigorate and detoxify


Get a good nights rest. Your skin and body uses sleep time to detoxify. Getting a good night's sleep will help to clear up skin, which allows sleep to improve and, in turn, will improve skin health



Celene loves Moon Juice Dream Dust to unwind and sooth tension. For a deep rest, I keep my Gee Beauty Sleep Mask on my bedside table