Gee Beauty Makeup Masterclass Tour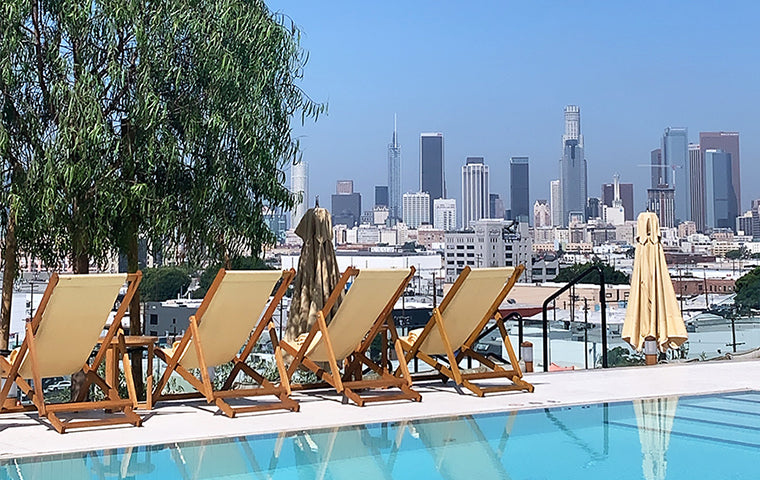 NY/ TO/ LA/ MIA: Gee City Guides
Fresh from our multi-city makeup masterclass tour, we've rounded up our favorite spots to eat, experience, shop, see, and the beauty essentials to pack for each destination.
New York

Walk:
We love a good spot that helps us feel inspired and connected. The High Line is a gorgeous park for amazing views of the city and fresh air. The industrial aesthetic with the right amount of greenery, gives a fresh feeling in a populated city.  
Wellness:
Bonberi
is our plant-based haven! A pop-up convenience corner store offering fresh juices, smoothies, salads, and wellness-inspired homeware. In the morning, we love to grab our favorite
Fernanda's Aloe Moringa Elixir
. Aloe Vera is a rich source of vitamins and antioxidants that may help protect your skin.
Eat:
Being conscious eaters, we love
Pastis
for both its ambience and menu. An intimate-edgy dining experience with vintage features of subway tiles, mosaic-tiled floors, and handwritten menu features. We recommend the grilled artichoke to start with the Branzino main.
Shop:
At Gee Beauty and 6 By Gee Beauty, we are inspired by places, materials, people, and textures from across the globe. We shopped the new collections for 6 By Gee Beauty from Loeffler Randall, Lizzie Fortunato, Xirena + Mes De
moiselles
stay tuned for new arrivals
 Botticelli Earrings By Lizzie Fortunato
Beauty Must-Haves:
Although NYC is a polluted city, your skin doesn't need to be!
Our busy-city beauty staple, the Dr. Barbra Sturm Anti Pollution Drops is a serum that strengthens the skin's defence against atmospheric aging. It works to block urban pollutants from penetrating our protective skin barrier, from the ultimate environmental pollution.
Dr. Barbra Sturm Anti Pollution Drops
Los Angeles
Walk:
Inspired by cool skateboard aesthetics, we walked along Abbott Kinney Blvd. As a brand and individuals, inclusivity means a lot to us and the Venice Beach ocean front walk is one of the most diverse in the world! 
Wellness:
Dog-friendly Runyon Canyon is one of the most popular trails to hike in all of Los Angeles County. Staying active, even if it's just for a 15 minute walk is so important for us to balance throughout a busy working day. 
Eat:
Craving Italian?
Felix
has incredible Cacio e Pepe! We love a good meal with gratitude, for us that's a good pasta dish. For your daily dose of greens, the fresh arugula salad is a must-try. 
Shop: 
Grateful to host our LA masterclass at Anine Bing, a collection offering luxurious wardrobe basics for the modern working woman. Her pieces are inspired by the 'fusion of Scandinavian heritage and American spirit.' Ultimately, we love styling this brand from top to bottom. 
Beauty Must-Haves: 
We don't leave home without the the Ouai Hair Mask. 
A restorative healing mask that's formulated to repair damage in minutes, leaving strands incredibly soft and smooth after just one treatment.
Made with Artichoke Leaf Extract to protect our hair from future damage that the LA sun can bring. 
Ouai Treatment Mask
Holi(Glow) Ageless Eye Serum by Agent Nateur contains caffeine, daisy flower, chamomile, and more to awaken, smooth, and bright the under eye. The cooling gel-like texture leaves skin nourished, hydrated, and glowing.
Holi(Glow) Ageless Eye Serum
Perfect for the AM and PM.
Miami
Walk:
We love to walk along the Venetian Islands towards the Standard Hotel for drinks on the bay and a good glass of Prosecco!
Wellness:
When we're really looking to bring the Miami heat, we love to attend a
Barry's Bootcamp
class followed by a customized shake at the Fuel Bar, Barry's in-house hub for wellness.  
Eat:
We've been loving
Gregory's Diner
, from our friends at Mandolin Bistro! An all-day American eatery with versatile menu options of healthy to comfort foods. (
FYI
great Avocado Toast!)
Shop: 
Simonett in Wynwood carries gorgeous and feminine pieces for the modern woman.
To shop your best hair goals, we love the trendy IGK in Design District for hair essentials!
Beauty Must-Haves:  
Gee Beauty Golden Glow Bronzer is a Miami-MUST for us! Our favorite bronzing power is mineral based, meaning super buildable. It is so gorgeous on top of a tan or in substitute of a tan.
Our secret to a perfect sun-kissed, Miami glow.
Gee Beauty Golden Glow Bronzer
Toronto
Walk:
Shopping organically and local for our produce is important to us. Little Italy is a great location for local markets and picking up groceries. 
Wellness:
Coco Market
is the new neighbourhood hot spot for a mid-day snack. A health food convenience store concept, it is the perfect place to grab guilt-free snacks in a timely manor, without having to study the ingredient label. Coco Market is the home of oat milk, the delicious Hu Chocolate bar, and so many more treats we love!
Eat:
We know how important a good pizza spot is for any travel guide so we're filling you in on the best pizza in the city,
Giulietta
! Best for its wood-oven pizza's and award-winning veggie sides. We love ordering up and sharing!
Shop:
6 By Gee Beauty
is a retail and lifestyle concept featuring trend-forward brands. Every piece is carefully selected by Gee to represent you, timeless and gorgeous. We are home to the signature scents of Le Labo.
Beauty Tip: keep your eyes peeled for new arrivals like our new Le Labo scent, Baie 19. 
click to shop
Baie 19: dry juniper berry, the patchouli, the green leaves... all soaked by a beautiful, luminous, magnetic rain after a long drought. And the joy that comes with it…
Beauty Must-Haves: 
A serum referred to as "green juice for your skin" - say no more.
Joanna Vargas is known for glow, and we can speak to that with our love for the Joanna Vargas Daily Serum. This refreshing serum is lightweight, moisturizing effortlessly with hyaluronic acid, leaving your skin refreshed and naturally glowing. It feeds your skin the correct concentrations of vitamins A, E, C and F thus increasing the success of your skincare routine.
Joanna Vargas Daily Serum             
Dr. Sebagh Eye Serum is so results-driven, it speaks for itself.
Dr. Sebagh Eye Serum
A highly advanced, formula targets the eye area for smoother, younger, firmer-looking skin - without surgery - and within five minutes of application.