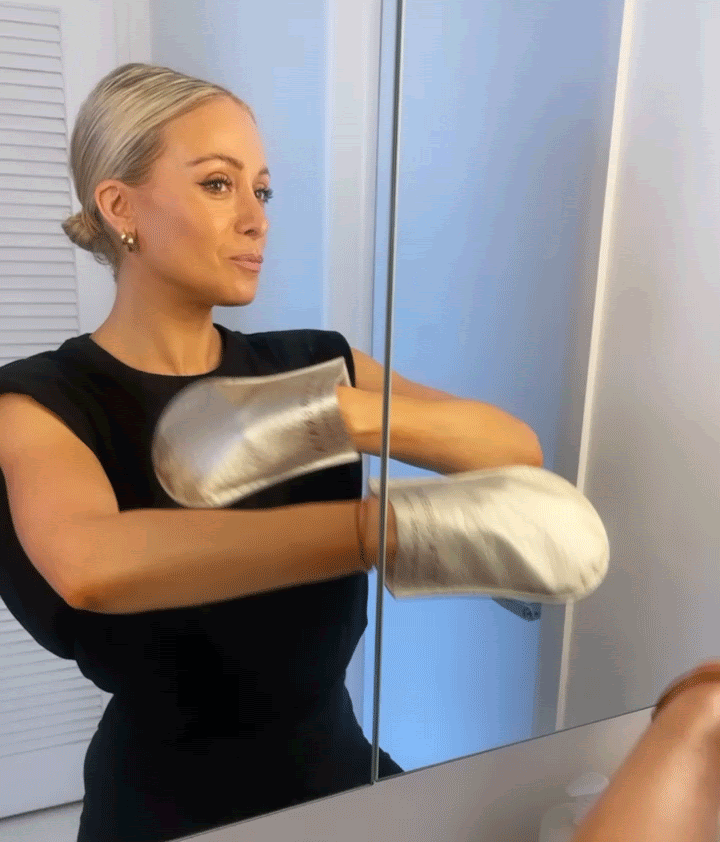 The art of good self-tanning is truly that! While many of us have made slight or visible mistakes when it comes to the right application techniques, it is possible to hone your skills and achieve a flawless-looking, gorgeous head to toe glow. 
Keep reading for Natalie Gee's tips, tools, and techniques that will help create that luminous look.

Step One
Before you start your tanning journey it is really important to begin with a dry brush. Dry brushing for me is something that I do every single day but I love to start with dry brushing because it really helps to smooth and invigorate the skin so that you are ready for exfoliation.
Step Two
Step number two is getting rid of any dead skin cells using a body exfoliant. I love either the Goldfaden MD Doctor's Body Scrub, Dr. Dennis Gross Exfoliating Body Treatment, or the Goop Exfoliating Body Scrub. What I love about exfoliating your body before your tan is that you're really able to smooth out your skin. Pay particular attention to your feet, ankles, knees and the backs of your elbows to ensure everything looks very smooth once your tan is applied.
Step Three
It's all about moisturizing before the tan goes on and this is a really important step. I love the Agent Nateur Holi(oil) Ageless Body Serum or the Goop Genes Nourishing Repair Body Butter. Moisturizing your skin before your tan is applied ensures that your tan looks so smooth in the days to come. While it is a little bit of an extra step, it's so key to making your tan look really, really beautiful.
Step Four
The final step is to apply your tan. One of the best tips that I've ever received that I love to do is take a couple pumps of your Vita Liberata and apply it directly onto your tanning mitts. Start to rub your tan into the skin the same way that you do your body moisturizer, ensuring your taking large circular motions all over the legs and other body parts so that your tan is evenly and smoothly applied. You'll notice your tan is applied more smoothly and beautifully, and will last longer when using the tanning mitt. Once I'm finished tanning my whole body, I give my hands a really good wash and I am good to go.
In the coming days as you notice your tan start to settle, don't be afraid to exfoliate during your tan. It enhances the color of your tan, plus keeps it looking fresher longer. Every 3 to 4 days, I'll exfoliate, then re-moisturize my body and re-touch up the tan.
Best of luck and enjoy your tanning journey!
Shop our self-tanning must-haves
 

here.
Need help choosing the right sunless self-tanner for you? Email our Beauty Concierge here.