The Benefits of Vitamin C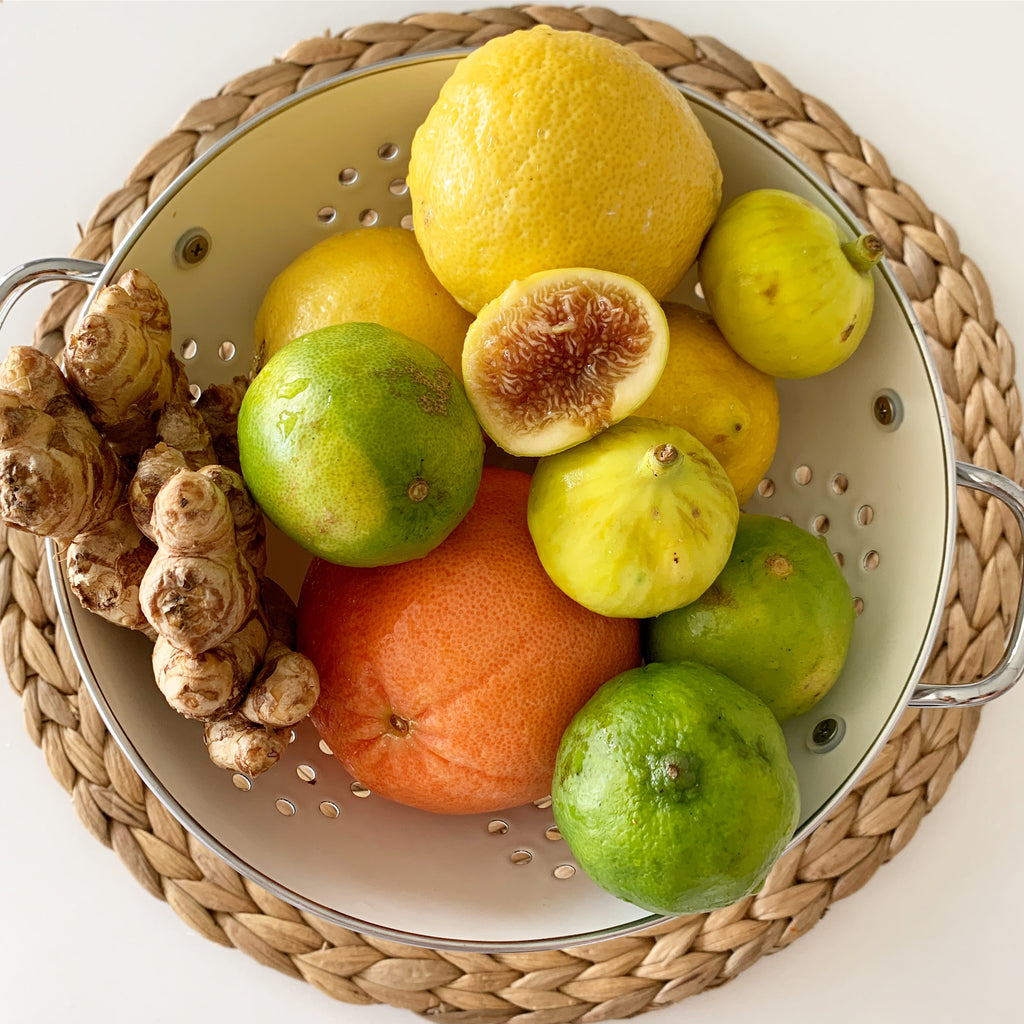 Vitamin C is a water soluble, highly potent antioxidant vitamin to protect and repair the cells. It improves immunity, reduces inflammation, strengthen bones and protects and repairs skin damage. Vitamin C is essential for our health and wellness and can be incorporated into your life easier than you think!
Keep reading to learn the benefits of Vitamin C and how you can incorporate it into your lifestyle.
Nutrition
Broccoli, Parsley, Kale, Lemons, Papaya, Strawberries and Chili Peppers are some of the top 20 foods containing the highest concentration of Vitamin C. The consumption of plant-based nutrition via fruits and vegetables, is an excellent source of consistent Vitamin C consumption for strong skin and bones.
Mind & Mood
Vitamin C can also improve our mood. Serotonin, our 'happy' hormone, lives in our gut. When we incorporate more plant-based foods with high concentrations of Vitamin C, we are helping to alkalize our gut for the potential release of more Serotonin.
For daily greens, I suggest WelleCo Super Elixir Alkalizing Greens, made of 45 super-food, organic ingredients such as Tremella Mushroom, Goji Berry and Spinach to decrease acidity and improve alkalinity. Mix 2 teaspoons of WelleCo Super Elixir with water and aim to drink 30 minutes before or after coffee. Click here for a tutorial!
Skin Benefits: Anti-Aging 
Vitamin C is one of the most anti-aging ingredients. We believe Vitamin C should be applied daily on all skin types for healthy, glowing and youthful skin. Vitamin C serums can range from 5-15% concentration, depending on your skin's sensitivity. A high quality, medical-grade Vitamin C serum should be applied as the first serum on the skin, in the morning. Vitamin C protects the skin from UV rays, free-radical damage, pollution while simultaneously repairing pigmentation, promoting natural collagen production and nourishing the skin resulting in a beautiful glow.
Skin Benefits: Protection, Prevention + Repair
Vitamin C is Retinol's BFF. The purpose of Retinol (or any chemical exfoliating ingredient like Sunday Riley Good Genes) is exfoliation to bring new, beautiful collagen to the surface, resulting in brighter, smoother and more youthful looking skin. For long lasting, anti-aging results, Vitamin C must be applied every morning, to protect the new, beautiful collagen promoted by Retinol, like Shani Darden's Retinol Reform, from free-radical damage, UV rays, pollution and environmental damage. Vitamin C in the morning, chemical exfoliation in the evening. It's all about balance. 
We love the CE Ferulic + Phloretin CF from Skinceuticals which are formulated with a powerful antioxidant combination to deliver advanced environmental protection against damaging free radicals induced by UVA, UVB, and infrared radiation. It retextures skin and evens skin tone for a firmer, brighter complexion. Dr. Sebagh's Pure Vitamin C Powder Cream is also excellent, offering a high concentration of a stabilized, highly-potent form of Vitamin C to protect against pigmentation and dramatically revitalize + brighten the skin.
Image via @intothegloss
You can shop our full collection of Vitamin C products here. (P.S. we have a new Vitamin C serum launching soon! Stay tuned!)