The Winter Wardrobe: Skin Edition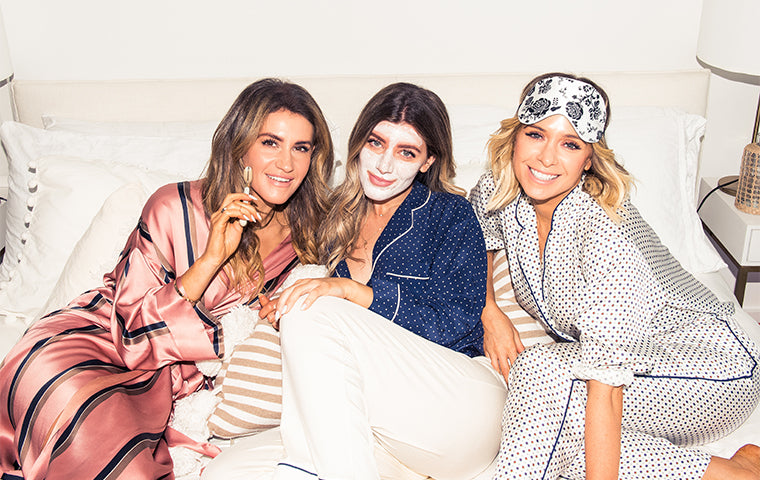 Winter weather dressing for your skin is like winter weather dressing for your body: it's all about adding layers. Just like you layer a sweater over your T-shirt and finish with a coat, the colder months bring on an added cream over a serum, then an oil. 

Protect your skin against the temperature drop (cold weather, dry indoor heating, travel + environmental stress) and prevent dry, red and aggravated skin.
The Hot + Cold games end now. Let's get a winter glow.
Agent Nateur Holi(Oil) Ageless Body Serum, $95
The Gee's are locking in the moisture with the Holi(Oil) Youth Body Serum.
Infused with 3 moisture rich oils Rose Hip, Argan, and Grapeseed to replenish your skins moisture. 
Colbert MD Illumino Oil
Illuminate- it's all in the name!
A face oil made from a unique blend of 8 key nourishing oils, it smoothes skin texture and brightens the complexion for a natural luminous glow, even durning winter months. 
Colbert MD Soothe Night Cream
Colbert MD Soothe Night Cream, $175
Sleeping is highly restorative for the skin, which is why the Gee's recommend a good night cream. Sooth Night is a rich and luxurious blend that provides a healing environment for the skin while calming inflammation, reversing environmental damage damage and encouraging skin's natural healing process. 
Contains Squalene: a results-driven natural ingredient, suitable for all skin types that provides enough moisture to keep the skin clear and healthy.  
Dr. Sebagh Supreme Day Cream 
Dr. Sebagh Supreme Day Cream, $200
Essential moisture is restored and water loss prevented, while a "tense and lift" complex and light-reflecting pigments provide an instant tightening effect and leave skin glowing.
This triple-protecting, luxurious cream also contains a powerful blend of antioxidants to help defend skin against free radical damage and provides anti-pollution benefits.
SkinCeuticals Triple Lipid 2:4:2
SkinCeuticals Triple Lipid Restore, $128
A great formulation to restore skin's external barrier and support natural self-repair, while potently nourishing aging skin for improvement in the visible appearance of skin smoothness, laxity, pores, and overall radiance. 
Restores essential skin lipids: 2% pure ceramides, 4% natural cholesterol, and 2% fatty acids.
SkinCeutical CE Ferulic
SkinCeuticals CE Ferulic, $166
"Vitamin C is like your first cup of coffee in the morning." - Stephanie Gee
The first and most important step of your skincare is to protect. The SkinCeuticals CE Ferulic is the most pure form of Vitamin C on the market, and acts as your 'security guard' for the skin. With antioxidant benefits and Vitamin E for added hydration, this formulation is best suited for a dry, aging, or normal skin type.
SkinCeuticals Epidermal Repair
SkinCeuticals Epidermal Repair, $74
Consider this product a "fancy Polysporin." Great for sensitive skin, acting as a veil to retain moisture and allow accelerated skin barrier recovery.
 Soothes skin and helps reduce inflammation while diminishes redness.
Dr. Barbara Sturm Face Cream Rich
Dr. Barbara Sturm Face Cream Rich, $230
 "Perfect for Canadian winters!" -Miriam Gee
Our Anti-Aging Cream is designed to make the best use of Purslane, a highly effective active substance with outstanding regenerative, anti-inflammatory, anti-oxidative and moisturizing properties. Purslane reduces redness and stimulates the production of collagen. This face cream is particularly suitable as a night cream, but is also recommended as a day cream for drier, more mature, or sensitive skin during the winter months.
Joanna Vargas Rejuvenating Serum
Joanna Vargas Rejuvenating Serum, $100 
The Rejuvenating Serum is luxurious face oil and a cult product fave! It is the essential foundation for all of your beauty rituals making it the ideal anti-aging moisturizer for your skin.
A fusion of 5 miracle oils: Argan, Neroli, Olive, Rosehips and Jojoba, that nourish and speed the tempo of your skin, reviving your complexion.
Dr. Barbara Sturm Anti-Pollution Drops
Dr. Barbara Sturm Anti-Pollution Drops, $145
A security blanket for the skin! Ultrafine particles that are constantly released into the air by modern civilization, can damage our protective skin barrier and infiltrate the deepest layers of our skin. These pollutants not only accelerate skin aging and trigger inflammatory skin conditions.
Dr. Sturm's innovative Anti-Pollution Drops, which can be added to any skincare product, contains a special extract derived from microorganisms found in French Polynesia.
Goop G.Nite Bedtime Bath Soak
Goop G.Nite Bedtime Bath Soak, $45
Incorporating principles of Chinese medicine, herbalism, and aromatherapy. G. Nite is the answer to restless, sleepless nights. It helps to promote a comfortable, calm state in which to prepare for sleep and helps relax and ease the feelings of stress and tension that can interfere with restful sleep

Star ingredients of Valerian root, and Australian Sandalwood naturally aid calmness in the mind and body. 
Gee Beauty Smoothing Lip Balm
Gee Beauty Smoothing Lip Balm, $30
Vanilla-scented, luxuriously textured balm re-hydrates, pampers, and helps repair and nurture lips, transforming them to a new level of softness, smoothness and suppleness
Give your lips some love and comfort this winter.